Serving the Homeless
of Florida's Escambia and Santa Rosa Counties
Assistance
Homeless Prevention assessments have temporarily closed until the first week of January 2024. Please call 2-1-1 for additional resource information.
Opening Doors NWFL Homeless Resource Center will continue to provide assessments for people experiencing a homeless crisis. Please call us to talk to one of our intake specialists for an appointment. Our number is (850) 439-3009.
---
2024 Point In Time Count Census Volunteer
The Point in Time Count (PIT) and Survey is an annual event providing a snapshot of homelessness in Escambia and Santa Rosa counties. The data collected during this event helps secure funding for vital resources, informs policy at federal and local levels, and guides how our community allocates resources.
Volunteers will be asked to use their mobile phone or tablet during PIT. Volunteer shifts are 2-4 hours long. All Volunteers are required to attend a 1 hour training session before January 22nd, 2024.
Your specific availability and survey site assignments will be discussed at the end of training. Sites include soup kitchens, shelters, street corners, health clinics, etc.
Requests to work alongside or with another person or group should be made after your training in January.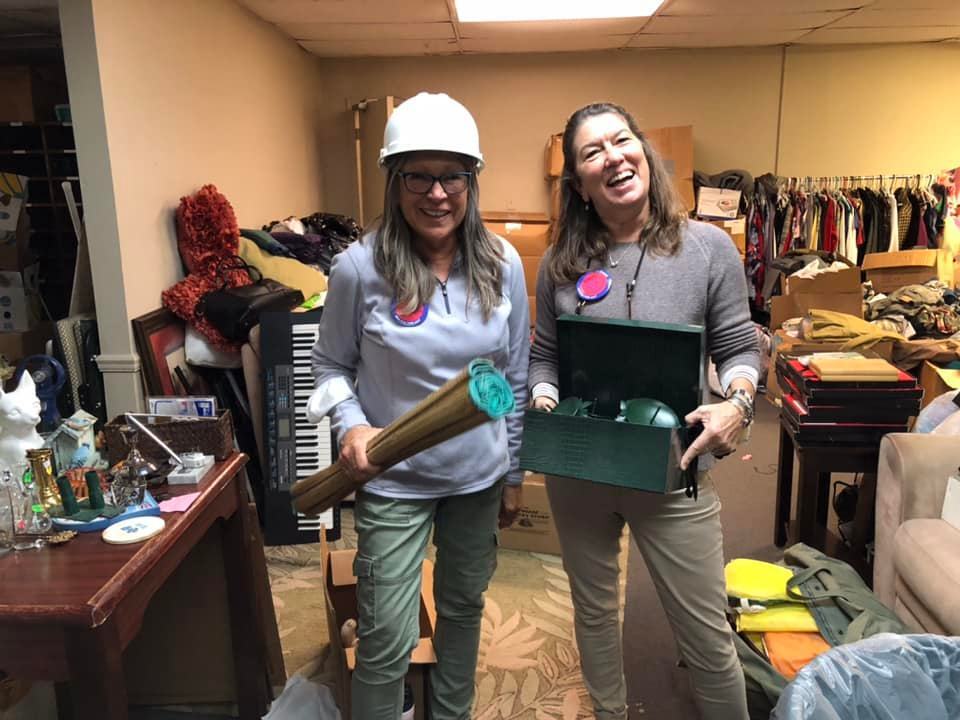 We All Count! We're kicking off our community's Point-in-Time Count (PIT), and we want you to join us in making the 2024 census the best in history for Pensacola, Escambia and Santa Rosa Counties CoC. This census survey is conducted annually in the last 10 days of January. Volunteers like you have the opportunity help coordinate this week-long event to meet with our unhoused neighbors, provide a little kindness through care bags, and help our community collect valuable information to bring awareness about their needs.
We can't spell success without U (you).


How and why to volunteer for the Point In Time Count Video
2024 Point In Time Count Volunteer Sign-Up
We need your help to fill 800 Care Bags?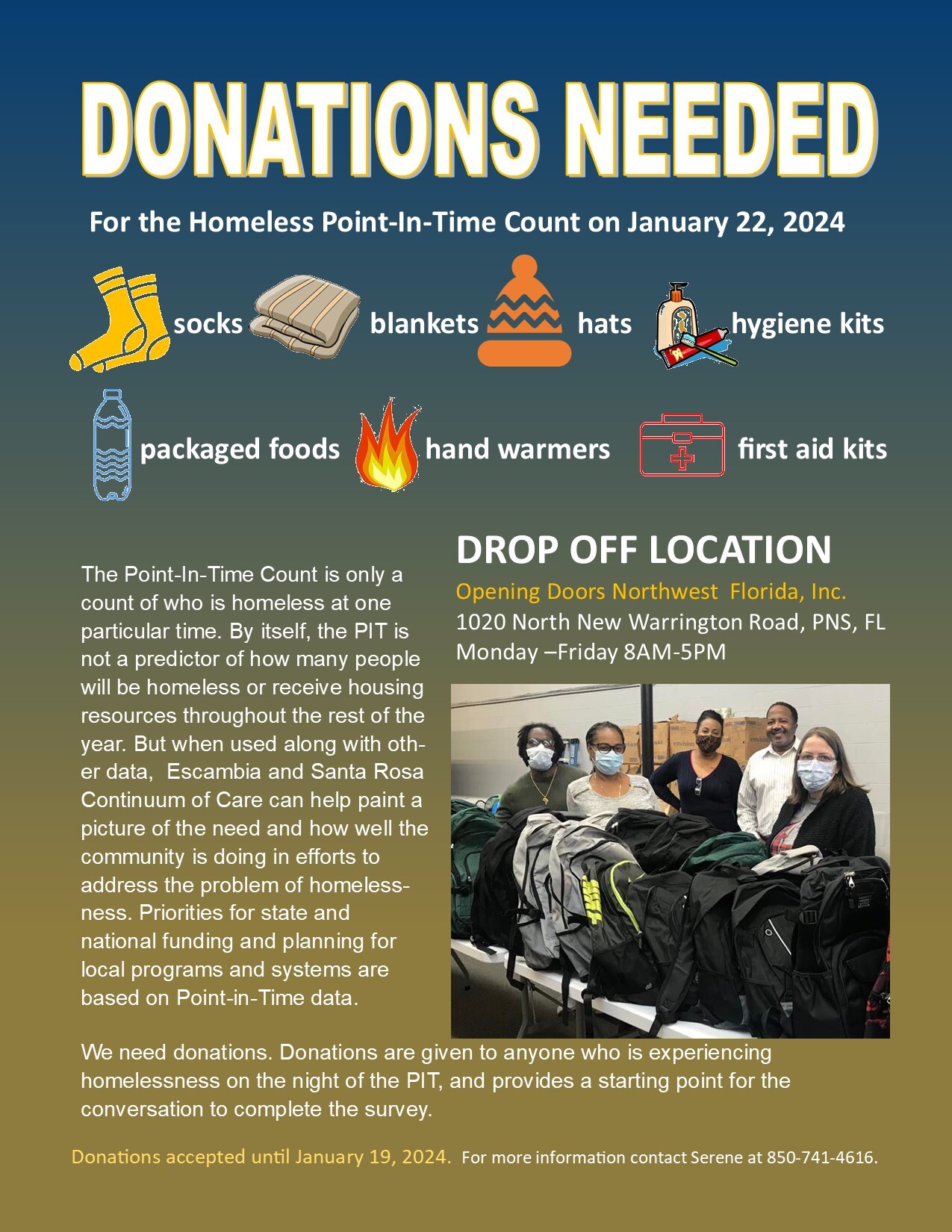 The Point-In-Time Count is only a count of who is homeless at one particular time. By itself, the PIT is not a predictor of how many people will be homeless or receive housing resources throughout the rest of the year. But when used along with other data, Escambia and Santa Rosa Continuum of Care can help paint a picture of the need and how well the community is doing in efforts to address the problem of homelessness. Priorities for state and national funding and planning for local programs and systems are based on Point-in-Time data.
We need donations. Donations are given to anyone who is experiencing homelessness on the night of the PIT, and provides a starting point for the conversation to complete the survey. Donations accepted online openingdoorsnwfl.org.
Donations accepted until January 19, 2024. For more information contact Serene at 850-741-4616. Drop Off Location: 1020 North New Warrington Road, Pensacola, FL
Donate
2024 You-Count Homeless Connect
CALLING ALL SERVICE PROVIDERS!
Join us for a A FREE ONE-DAY, ONE-STOP EVENT TO PROVIDE
You-Count Homeless Connect is a one-day, one-stop shop to deliver real services to people experiencing real homelessness in our community.

Location: Pensacola Bay Center, 201 E. Gregory St. Pensacola, FL 32502

Date: Thursday, January 25th, 2024

Check in begins at 8:00 am. Event time: 10:00 am - 1:00 pm. Tables and chairs will be provided.

Vendors spaces are free, we expect to serve nearly 400 un-housed individuals.

Please complete the Registration Form by close of business 01/12/2024.

Contact:

Serene Keiek; serenek@openingdoorsnwfl.org, 850-741-4616.

2024 You-Count Provider Registration Form
---
Homeless Reduction Task Force
Will make Positive Impact on Community
A community partnership in Northwest Florida is being formed to better streamline services to homeless individuals and families with the ultimate goal of offering essential resources in helping them achieve a life God intended for all citizens in our two-county area. The Homeless Reduction Task Force of NWF will increase public safety and strengthen the Northwest Florida community by reducing the number of individuals and families experiencing homelessness. This Task Force will be co-chaired by John Johnson Executive Director of Opening Doors NWFL, the Lead Agency for Escambia and Santa Rosa Counties Local Continuum of Care and Connie Bookman the Founder & CEO of Pathways For Change.
Homeless Reduction Task Force PSA 03/04/2021
179.474 KB
---
Public Notice of Data Collection
FL511: Continuum of Care
Program Management Information System of the Southeast (PromisSE) dba:
Homeless Management Information System (HMIS)
Opening Doors Northwest Florida, Inc. is an HMIS Participating Agency in FL-511. We collect personal information directly from you for reasons that are discussed in our privacy statement. We may be required to collect some personal information by law or by organizations that give us money to operate this program. Other personal information that we collect is important to run our programs, to improve services for homeless and at-risk persons, and to better understand the needs of homeless and at-risk persons. We only collect information that we consider to be appropriate.

The collection and use of all personal information is guided by strict standards of confidentiality. A copy of our Privacy Notice describing our privacy practice is available to all clients upon request.